Welcome to Chiang Mai Salsa, the best place to dance salsa
in Northern Thailand
Salsa dancing is a great way to have fun, meet new people, have a relaxed drink, and get some exercise at the same time! There is no age limit and is a great place for people from all over the world to get together in one place.
Every week, a group of dedicated salsa dancers get together to indulge their passion for dance. From the very basics to more advanced steps, Chiang Mai salsa encourages people to have fun and give it a go!
Salsa is a Latin dance which originated on the streets of Cuba and through the Caribbean. It is known for its rhythmic hip movements, complex turns and flowing rhythms with music that is sure to get you moving. There are many variations of salsa worldwide. At Chiang Mai Salsa, we dance a form of Cuban salsa, which has been modified to suit the teaching and learning styles of our students. Warning- Salsa is addictive!
Classes are held EVERY Monday at the Latin Club, Soi 6 Nimmanhaemin Rd. (turn into Soi 6 at the Bangkok Bank). The club is upstairs in Punna Place, above Wawee Coffee. The class can cater for all levels, from beginner to more advanced dancers, and encourages everyone to come along regularly to make the most of the dancing experience. As classes progress through the weeks, steps will be added to a growing repertoire of moves, all of which may be danced in a circle and many of which involve changing partners.
Classes start at 6pm and will continue until approximately 8pm, followed by social dancing until late.
Classes are free, however we ask that you do buy at least one drink from the bar. This will ensure that the Latin Club, who has kindly let us use their space, will let us continue classes at this wonderful venue.
FAQ's:
Do I need to bring a partner?
No partner necessary! As we dance in a circle and many of the moves involve changing partners, all you need to bring is your positive attitude and sense of fun!
What language is the class taught in?
All classes are taught in English. Translation to Thai or German is available if needed. The only language you need to know is the language of dance!
It's my first time dancing: can I still come along?
Of course! For the first few weeks we will try to introduce some of the basic moves, after which you will be free to join the main circle and give it a go.
How much do the classes cost?
Classes are free, however as the Latin Club has kindly let us use their venue, we ask that everybody attending the class buys at least one drink from the bar to support the club and encourage them to continue to let us use their wonderful venue for classes.
What should I wear?
You can wear whatever you want, as long as it lets your body move freely. A lot of the moves you will learn involve spins and turns, so clothes should not prohibit these movements. The best shoes to wear should let you turn easily, and for the ladies, shoes with a strap around the ankle are best.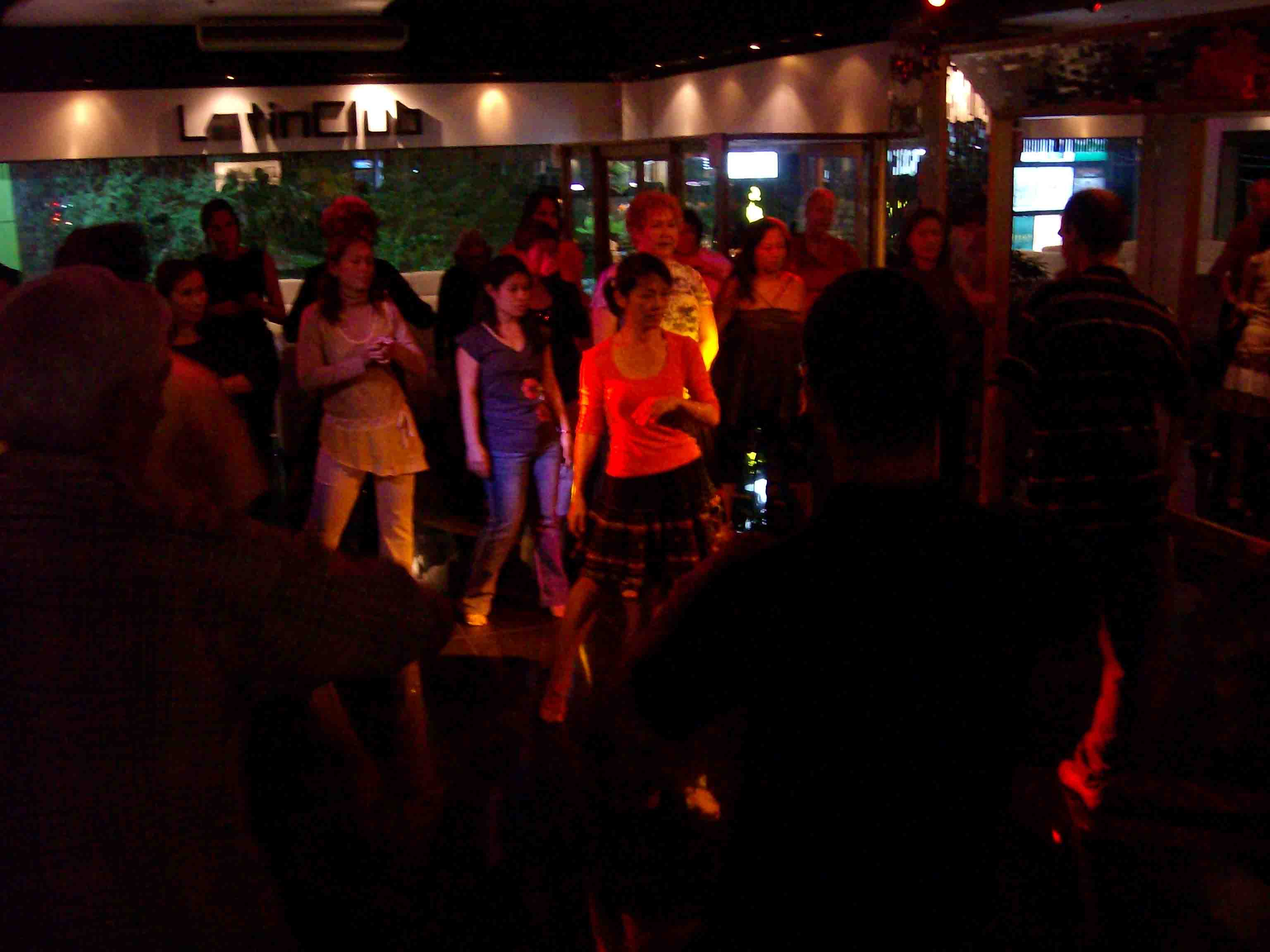 Do I have to turn up every week?
There is no requirement to attend every week, however we build on our knowledge of moves week by week, so attending each week is a definite advantage and a great way to expand your repertoire of moves. Besides, salsa is addictive: why wouldn't you want to come every week?! Also, if you want to progress and join the intermediate class later on, you should attend the classes every week
If you want to be informed regularly about Salsa activities in Chiang Mai, please subscribed to the Chiang Mai Salsa List at:
http://groups.yahoo.com/group/salsa_chiangmai/
Cheers
Dirk
Thanks to Robyn for writing the English text, and to Thom for writing the Thai version! And of course to everyone who comes regularly and keeps the class